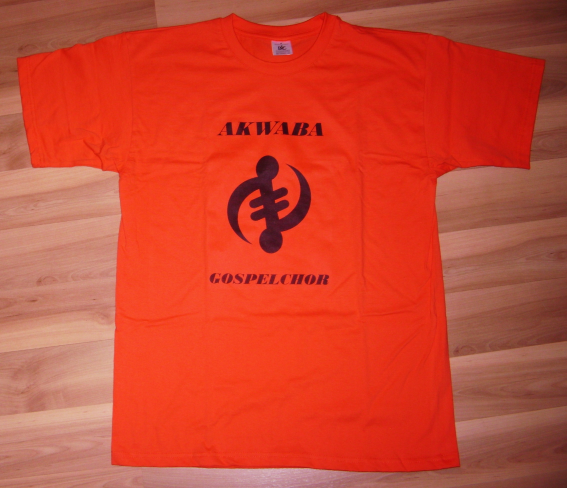 Tel.: 0176 - 85 29 16 71
Danke für Ihr Interesse! Thanks for your interest!
Merci pour votre intérêt!
Auf Nachfrage unserer Fans, die T-Shirts und Poster von AKWABA zu erwerben, wurde dieser Menüpunkt unserer Webseite hinzugefügt. Natürlich werden die Poster auf Wunsch von den einzelnen Chormitgliedern handsigniert.

Bitte rufen Sie vorher an, um nach der Verfügbarkeit der Fanartikel zu fragen.

T-Shirt 100% Baumwolle in allen Größen
Farbe orange, rot oder weiß: 12,00 €
---
We added the topic fan merchandise to our website because of the demand of our fancommunity to purchase the T-shirts and posters of AKWABA. Of course, the posters will be signed by the individual choir members on request.

Please call in advance to inquire the availability of the fan goods.

T-shirt 100% cotton in all sizes
Color orange, red or white: 12,00 €
---
Cette page a été ajoutée à notre site Web pour répondre à la demande de nos fans d'avoir la possibilité de se procurer les T-shirts et posters d'AKWABA. Au besoin, les posters seront naturellement dédicacés de façon individuelle par les membres de la chorale.

Appelez s'il vous plaît pour vous renseigner sur la disponibilité des articles

T-shirt 100% coton dans toutes les tailles
Couleur orange, rouge ou blanc: 12,00 €